Welcome to Gullwing Racing Insurance
Gullwing Racing Insurance provides unique insurance solutions to unique insurances needs.
Within the motor sport scene we are known as a professional and passionate partner dedicated to provide the very best possible service to drivers, teams, circuits/promotors, sponsors and the TV & Film industry.
We know the Motorsport Industry, the Motorsport Industry knows us!
We take pride in the fact that, with your help, we managed to reach the pinnacle of motor sports on the quality of our products and services. This includes our online claims procedure which allows us to process your claim even faster than before, enabling you to continue your race program.
In the highly competitive field of motor sports insurance, we choose not to follow, but put ourselves in "pole position" and set the benchmark for others.
Our policies are based on stable premiums, in depth knowledge of the insurance market and our years of experience handling claims for teams and drivers from many of Europe's most competitive championships. In this ever demanding sport, you can rely on our expertise.
Gullwing Racing Insurance provides a comprehensive range of specialist insurance products.
To find out more contact us or simply arrange an appointment on track with one of our staff by using the calendar.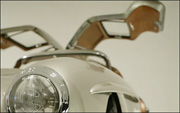 In 1952, Mercedes Benz introduced the legendary 300 SL.
To save weight, a tube chassis was built. This construction however, made it impossible to use standard hinged doors. Hence, the car was equipped with the famous wing doors which gave the 300SL his name: "Gullwing".

The Gullwing was a very strong and reliable car. In 1952, the car won 4 out of 5 important race meetings in which it contested.

The solidity and reliability of the Gullwing is reflected in the products and service of Gullwing Racing Insurance!